Terwilliger Nature Guide Volunteers
Become a Terwilliger Nature Guide!
Learn about one of the most engaging and fulfilling volunteer experiences in the Bay Area!
WildCare Terwilliger Nature Guides lead nature discovery walks for school children, and receive specialized training on local wildlife, plant identification and outdoor teaching methods.
Orientations for new Nature Guides are held once a year.
Orientation for new Terwilliger Nature Guides is TBA.
For those who choose to attend the training starting after the orientation, a $50 fee covers training materials and other related costs, and includes a year's membership to WildCare.
Nature Guide Training takes place on four (4) Saturdays and one (1) Wednesday evening. Three (3) observation dates (to watch our veteran Nature Guides in action teaching children in the field) will also be scheduled on weekdays as part of the training. Click here for a PDF of the training schedule.
Scholarships are available to applicants in need of assistance.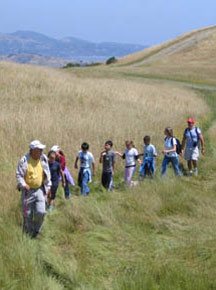 Nature Guide Training will be provided by experienced and enthusiastic naturalists. Our multi-faceted training will teach you how to help children open their eyes to the wonderful world of wildlife. A background in science is not necessary-we will teach you everything you need to know to help elementary school-aged-children connect with nature in a fun and engaging way.
Training sessions will familiarize trainees with WildCare's hike locations and the plants and animals you may find on trail. Topics will include fascinating facts about local plants and animals, Coast Miwok culture, as well as basic redwood forest, grassland and oak woodland ecology. Just bring your interest and enthusiasm for sharing nature with children and we will guide you through the rest! Click for the training schedule.
Being a Nature Guide is a great opportunity to share your joy, knowledge and enthusiasm for nature with children!
Commitment Requirements
WildCare Terwilliger Nature Guide Training graduates commit to leading a minimum of two discovery walks for school children per month (a total of seven hours per month). All walks take place on weekday mornings, from September through June, and you will be scheduled in advance.
Questions? Please email Eileen Jones, Director of Education at eileen@discoverwildcare.org or call 415-453-1000 x12.
Learn to Teach About Nature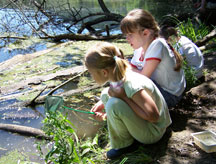 As a Terwilliger Nature Guide you'll learn Elizabeth Terwilliger's renowned interactive approach to discovering wildlife. A series of workshops provides the basic knowledge and training required to comfortably lead small groups of school children on exploratory adventures of some of Marin and Sonoma's most beautiful areas.
WildCare's Terwilliger Nature Guide Training will teach you all about the biology, botany, geology and ecology of Northern California with special emphasis given to teaching techniques appropriate for the age groups with which you will be working.
Joining WildCare as a Terwilliger Nature Guide can be one of the most rewarding experiences of your life! In addition to gaining great satisfaction from successfully stimulating a child's interest in nature and the environment, you will: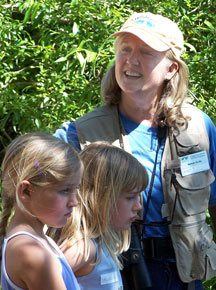 Meet other nature lovers and cultivate new friendships
Expand your knowledge of local wildlife
Experience personal and professional growth
Participate in continued learning
Be invited to special WildCare events
During your training you will learn and practice:
Field identification techniques for local wildlife
Innovative outdoor teaching methods
Techniques for leading small groups of children on the trail
Nature Guide Training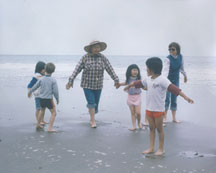 The training for the program focuses on local biodiversity and includes topics such as plant and wildlife identification, natural history of local species, and outdoor teaching methods. The program involves five classroom/field sessions and three required field trip shadowing sessions.
WildCare Terwilliger Nature Guide graduates commit to leading a minimum of two discovery walks for school children per month.
Click for the 2020 Nature Guide Training Schedule.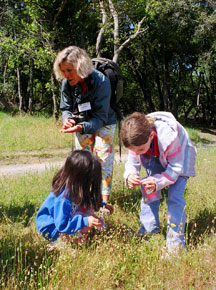 Three Sites to Choose From
You will choose a site to specialize in:
 Ring Mountain, Corte Madera
Muir Woods
Miwok Meadows, China Camp 
Sign Up
Click here to register online. Questions? Please email Eileen Jones, Director of Education at education@discoverwildcare.org or call (415) 453-1000 x12.
___________________________________